The outcome of the prosecution against the Ministry of Education was revealed in October. Qui Bai has sued the Ministry three times, making it the defendant twice. The issue has aroused more people to step forward for Qiu Bai and LGBT though the Ministry iss still obstinate as it was.
Everyone's contributions reminded me of a Chinese fable – How Yugong Moved the Mountains while I was writing the briefing. Let's see how we move the "mountain" of homophobia in October.
【Advocacy】 "Cure the homophobia textbooks" is now online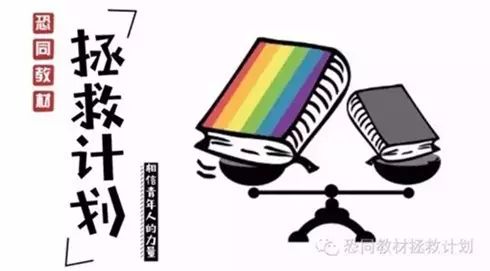 One year ago, only a few fellows such as Qiu Bai were working hard for the textbook issue. Now, more and more new members, including Xixi, Peter, Xiatian, Barry and Mimi, young but not impetuous, took part in the march of progress and launched a program to cure the homophobia textbooks. They are calling upon more youths to join the program to make changes. The future is in youths' hands. Will you be our next participant?
【Action】Lose the suit again against the Ministry of Education, but still we rise!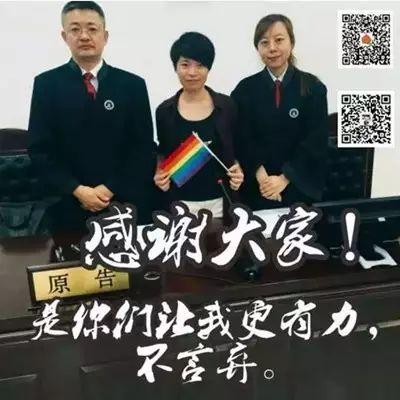 Qiu Bai has received the verdict in October and all the claims were rejected. 30 minutes of court hearing and a six-page court verdict were all that she has obtained with all the efforts in a year. Qiu Bai disagreed with the statement of "the stake does not exist legally" and has appealed to Beijing Municipal Higher People's Court on October 12. What can we do before the court responses?
Lingchezi, a young boy in Shandong Province, started an activity "The Floating Bottle to Support Qiu Bai" which called upon the LGBT from Qingdao, Linyi, Jinan, Cangzhou, Tianjin and Beijing to write down what they want to say to the Ministry of Education, their opinions about the homophobia textbooks and how to ensure that students can have diverse sex/gender education on campus, and even the stories of their own, to improve the recognition of LGBT. Now it's Cangzhou's turn. 20 people have participated the activity in total.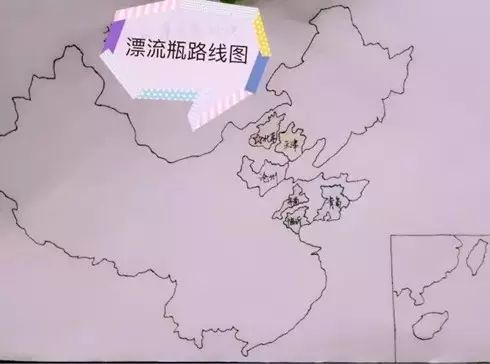 Hey! The map of the floating bottle

As the homophobia textbooks were exposed, more and more youths chose to protest against the use of those textbooks. Until now, we have received more than 30 photos from parents, students, teachers, etc., in which they show their opinions against the homophobia textbooks. If you want to support us, just take a photo in the following way and remind us @同-城青少年资源中心 on Sina Weibo.
【Teachers】200 teachers support LGBT publicly and protest homophobia textbooks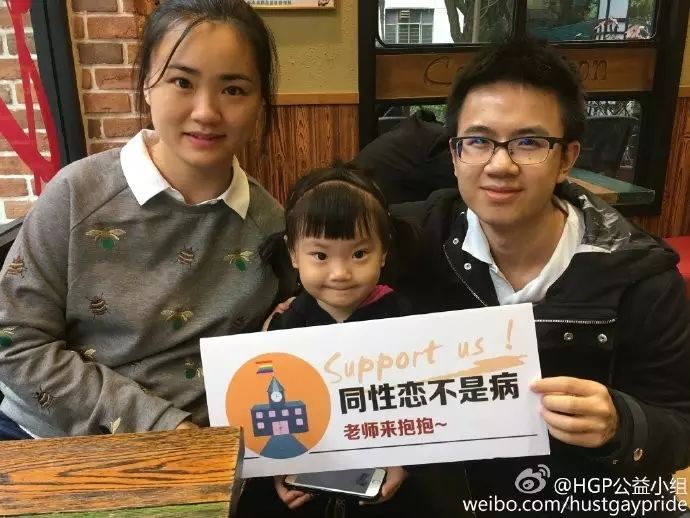 Pic: Lydia, a teacher from the School of Foreign Languages of Huazhong University of Science and Technology (HUST)

Last September, GLCAC launched "Teachers We Need You", a nationwide campaign to call upon teachers to support LGBT, cooperating with many domestic LGBT organizations (including HGP Group of HUST, LESGO in Suzhou, Rainbow Caring Group of Southwest University of political science and law, Rainbow Group of Sun Yet-sen University, Caring AIDS Rainbow Group (关艾彩虹), LALA's VOICE, Gender and Sex Orientation Equality Association of Nanjing University, Orange Association of Shantou University, Raindrop Group of Shenzhen Middle School (深圳中学雨滴社), MOTSS Forum, Tongtian Jiangsu (江苏同天) and DiversityUNNC). From August to October, they have persuaded 60 teachers to voice their support to LGBT. Many of them are middle schools' teachers from Nanchang, Wuhan, Hangzhou etc.
Scan the QR code and find
whether your teacher took part in it!
【Education】What if an LGBT appears suddenly in your dorm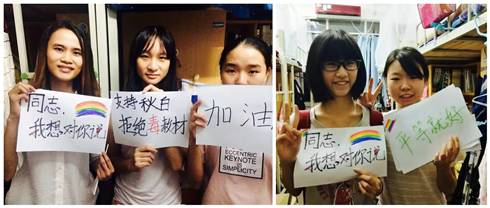 Pic: the students who are willing to take photos to support LGBT
On October 28th, the volunteers of the education program launched the persuasion action named "5% Face to Face". They swept into a dorm building of a university to let the students see LGBT people in the flesh and promote LGBT-friendly campus environment. In the tough two hours, 12 volunteers visited 40 dorm rooms and communicated LGBT issues to almost 80 freshmen. Some of them have never seen a 'in-the-flesh LGBT person. Some volunteers came out on the spot and became the first LGBT friend of those students. Almost 30 students were willing to show their friendly attitude towards LGBT and took photos to support us!
【Finance】Financial Statement from Sept. to Oct. is now published
How wonderful this two months, full of activities! Here we have to send our appreciation to our two old friends, Yangyi and Zhoushi, the masters of ukulele! They have cooperated to open a course including 6 lectures, and they have donated all the tuition to GLCAC! As far as I know, the trainees have learned a lot of things. Please look forward to their graduation performance! Here are the photos of them.
Pic: Ukulele lectures
From September to October, GLCAC has received donation of RMB 17348.79 in total. It is your support that drives us keep going! We would be grateful if you can donate RMB 20 per month to be our regular donator!
翻译:阿飞 校对:天立
整理:小宝、萧萧
编辑:萧萧